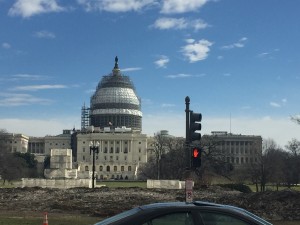 The Center for Universal Education at Brookings is now accepting applications for the 2017 Echidna Global Scholars Program. Echidna Global Scholars spend nearly five months at the Brookings Institution in Washington, D.C. to pursue research on global education issues with an emphasis on girls' education.
About the Center for Universal Education: As part of the Global Economy and Development program at The Brookings Institution, the Center for Universal Education (CUE) develops and disseminates effective solutions for quality education and skills development.  It offers a forum for research, high-level dialogue, and public debate on a range of issues relevant to education, with a particular focus on the developing world. CUE envisions a world where all children and youth have the skills they need to succeed in the 21stcentury. The center plays a critical role in informing the development of policy related to global education and promotes actionable strategies for governments, civil society and private enterprise.
Responsibilities:
Echidna Global Scholars Program: The Echidna Global Scholars Program fits within CUE's broader efforts, which seeks to catalyze and sustain collaborative action to achieve quality education for all, and helps to build the leadership pipeline for girls' education around the world.  During their residency from early July 2017, to mid-November 2017, at theBrookings Institution, Echidna scholars will work with the Center staff on developing their specific research project and may then work with the Brookings communications team to develop a strategy for policy impact.  They will also participate in professional development training and networking opportunities.  Echidna scholars will draw on the resources of Brookings' scholars, as well as the extended public policy community in Washington, D.C. by participating in additional meetings and conferences and networking with the broader development community. The Echidna fellowship is made possible by the generous support of Echidna giving.
Qualifications:
Applicant Requirements:  Applicants should have a background in education, development, economics, or a related area, with at least 15 years of professional experience in either research/academia; non-government and civil society; government; or business.  Master's degree required; Ph.D. or research background strongly preferred. Strong analytical and writing skills required.
Successful applicants will have an intimate understanding of education development issues and/or issues related to development and gender.  Applicants who have not worked explicitly on girls' education previously are welcome, but should include an explanation of how this focus on girls' education can be integrated successfully into their current and future work.  Echidna scholars will be expected to collect data prior to arriving in Washington, D.C. for the residency, work on an extensive, cutting-edge written research product, as well as a post-residency project proposal with the intent to implement their research in their home country upon completion of the program.
Echidna Scholars are encouraged to include areas of research focused on Second Generation education priorities for girls. The five "second generation" priorities, highlighted in Raising the Global Ambition  for Girls' Education include: 1) ensuring that girls can attend and complete primary and secondary school; 2) making schools safer and more secure; 3) improving the quality of learning for girls; 4) supporting girls' transition to higher education and employment; and 5) cultivating local country leaders to champion this work at the grassroots level. Echidna Scholars are also encouraged to include areas of research focused on girls' skills development programming that targets specific age brackets or other girls' education issues lacking evidence. Additional expectations of Echidna scholars include interacting with other Brookings scholars and the wider policy community, a demonstrated ability to conduct professional, in-depth research, and deliver spoken presentations in English.  Applicants selected for the fellowship will receive a living stipend of USD $5,000 a month (subject to U.S. tax withholding), paid housing for the four-and-a-half-month term, and round-trip travel expenses.
Additional Information:
Program Requirements: Echidna scholars must be available for a full-time, on-site affiliation with The Brookings Institution for the entire duration of the residency of the program as well as a pre-arrival data collection phase of research prior to their arrival.  This affiliation is not an employment relationship but part of a fellowship program.  Echidna scholars are required to conduct research on an approved topic.  Echidna scholars will also present their research papers at a Brookings seminar or event at the end of the residency.  Each Echidna scholar is expected to be an active participant in Brookings and CUE activities, including, but not limited to, regularly-organized organizational staff meetings, informal discussions, seminars, presentations, and other CUE and Brookings events.  
Term of Program: The research project should be conceptualized as a 7-8-month research and writing process beginning while the scholar is at home prior to the residency. The residency will begin on or around July 10, 2017 and end on November 17, 2017. Scholars may be invited to apply for seed funding to implement their research findings in a pilot program after the residency. Please note that the timeframe of this program will not be changed.
Interview Process: The interview process includes a series of phone interviews with CUE leadership. Finalists will receive a CUE team member in their home countries for a short site-visit and series of discussions to determine potential impact of research.
How to Apply:  
Attach your Curriculum vitae or resume and cover letter to include a list of fellowships, honors, awards, funded research, or current foundation support that you have received, as well as publications. Please attach curriculum vitae or resume and cover letter (including list)  as one document when you apply.
When prompted, attach answers to Questionnaire. Click  here  to access document. *Document must be saved with a format of Last Name, First Name and document name.
When prompted, attach Research Project Proposal. Click here to access document.*Document must be saved with a format of Last Name, First Name and document name.
Only applicants selected for interviews will be contacted. Candidates selected for interviews may be asked to submit additional materials. Incomplete applications and those received after the deadline will not be considered. If you require visa sponsorship to participate in this fellowship program, your English proficiency will be verified via an objective assessment as required by the U.S. Department of State.
Timing and Application Deadlines:
Application deadline: November 14, 2016
Results finalized: March, 2017
Tentative Residency Term: July 10, 2017 to November 17, 2017
Additional Information:
Brookings requires that all applicants submit a cover letter and resume. Successful completion of a background investigation is required for employment at Brookings.
Brookings is an equal-opportunity employer that is committed to promoting a diverse and inclusive workplace. We welcome applications from all qualified individuals regardless of race, color, national origin, gender, sexual orientation, age, religion, physical or mental disability, marital status, veteran status, or other factors protected by law.
Source: https://www.brookings.edu/