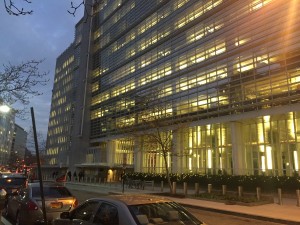 Location: Freetown, Sierra Leone
The World Bank is recruiting a Senior Economist based in Sierra Leone who will work with the Practice, based in a client country in West and Central Africa. The selected candidate will be an integral part of the country team and the global MFM GP, and will report to the MFM Practice Manager based in Washington DC. Key responsibilities include: (i) Leading key operational and analytical tasks; (ii) conducting detailed analysis of selected policy areas; (iii) carrying out policy dialogue with the Government as needed; and (iv) working closely with the Program Leader and rest of the MFM team to ensure timely and high quality delivery of MFM products.
Duties & Accountabilities: Under the guidance of the Country Manager and Program Leader, the Senior Economist would:
Lead or support as needed:
Policy reform dialogue with Government authorities and development partners;
Preparation of Development Policy Operations and of Economic and Sector Work;
IDA's engagement with the country on its overall policy reform program;
Represent the Bank in its relationship with the IMF on the macroeconomic framework for the country as well as in the preparation of joint World Bank-IMF debt sustainability analyses;
Advise the Government on formulation and implementation of poverty strategies in consultation with the Poverty Economist assigned by the Poverty Global Practice;
Lead within the country team relevant process tasks such as the annual Country Policy and Institutional Assessment (CPIA) exercise, macroeconomic monitoring; and contribute to Systematic Country Diagnostic analysis and Country Strategies;
Participate in the dialogue with development partners on improved harmonization procedures to reduce transactions costs.
Selection criteria:
Minimum of a Master's degree in economics, with eight years of experience. Strong technical and operational skills as evidenced in a proven track record in delivery of Bank operations, such as ESWs or Development Policy Lending (DPLs);
Proven sense of initiative, results orientation, and leadership qualities, as well as effective teamwork skills;
Strong communication skills, including the ability to speak persuasively and to present ideas clearly and concisely with senior policy officials.
Strong integrative capacities; i.e., ability to situate IDA activities within a coherent strategic framework.6. Excellent communication and presentation skills — both verbal and written.
Applications: For the FULL job description, selection criteria and required competencies, qualified candidates are requested to submit an on-line application at www.worldbank.org/careers. Click on > Current job openings > Job Type > Professional & Technical > Job Family > Other> Job # 162154. The World Bank is committed to achieving diversity of gender, nationality, culture and educational background. Individuals with disabilities are equally encouraged to apply.  Closing date for receipt of applications is October 31, 2016.  Only qualified candidates will be contacted.