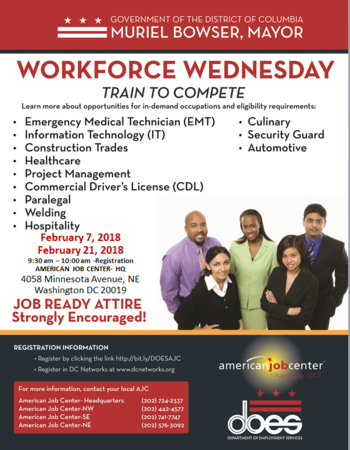 The D.C. Department of Employment Services can help you receive training and prepare for your dream job!
Visit the American Job Center Headquarters NE, Washington, DC 20019 on Wednesday, February 7, 2018 at 9:30 am in the Community Room to learn about American Job Center services and register for FREE industry recognized occupational skills training.
Prior to attending the event, please visit www.DCNetworks.org to create your profile and upload your resume.
DOES can assist you with training in the following industries:
Emergency Medical Technician (EMT)
Project Management
Information Technology
Commercial Driver's License
Healthcare
Administrative Services
Paralegal
Welding
Transportation
Hotel & Hospitality
Construction Trades
Automotive Technician