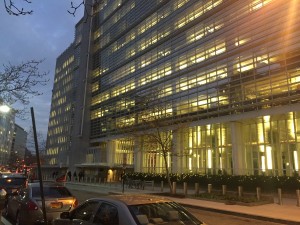 Quand le job rêvé se transforme en cauchemar: les tribulations d'un fonctionnaire éthiopien de la Banque Mondiale.
In 1978, my father, Yonas Biru, fled Ethiopia to escape a reign of terror imposed by a communist junta. His endeavor was risky. Anyone who was caught fleeing was shot dead on the spot. He fled under the cover of night with only the clothes he wore, a plastic water canteen and an Ethiopian Coptic cross.
In 1979, he came to America with a UN refugee passport, $12 to his name and his Coptic cross. What he lacked in material possession he compensated for with spiritual abundance and a big dream matched by a relentless drive for success. He worked mid-night shifts as a room-service waiter to support himself through college and earned a PhD.
He joined the World Bank and worked hard to become the Deputy Global Manager of a high-profile international program. My father's story was the quintessential American dream built on hard work, faith in God, and pull-yourself-up-by-your-bootstraps family values.
His American dream turned into a nightmare when the World Bank rejected his application to become the Global Manager of the Program that he served as Deputy Global Manager with an "outstanding/best practice" performance record. The explanation was that "Europeans are not used to seeing a black man in a position of power."
The Bank gave my dad a dehumanizing offer as a consolation. It officially charged him to "take over all the day-to-day coordination of the program and the Global Office team" without the Global Manager title and fronted a non-Black consultant as a Global Manager.
The problem with this arrangement was that World Bank rules do not allow consultants to perform managerial duties. However, the bank said, "circumstances like that can be handled by having somebody else in the unit taking care of that."
That "somebody" who took care of that was my dad.
As an international organization, the World Bank is immune from US laws and courts. The only recourse my dad had was filing a complaint with the World Bank internal administrative tribunal – whose judges are hired and paid for by the World Bank.
As a legal defense strategy, the World Bank took drastic actions to justify its decisions. It falsified my dad's personnel records, going as far as deleting his name and leadership roles from its publications and websites. Moreover, it replaced my dad's stellar managerial record with irreparably damaging defamatory remarks and terminated him with trumped up charge of "unsatisfactory performance."
The World Bank tribunal reviewed my dad's discrimination claims and ruled that the Bank's actions were justified by "business reasons" and summarily dismissed his case. However, in a confidential memo that my dad was copied on inadvertently, the Tribunal characterized the Bank's legal defense as "dishonest."
Meanwhile, the Tribunal found my dad's termination "unlawful and arbitrary" but rejected his request for reinstatement because "Neither the Tribunal's Statute nor its Rules require that the Tribunal must order reinstatement when it finds a termination decision to be arbitrary." The judgment added that my father "had criticized" the Bank's actions and as such has shown "contempt to the institution."
In a gross abuse of its immunity from legal accountability, the Bank denied my dad severance payment (over $200,000) to which he was entitled. The Bank refused to pay my dad his severance payment even after the Tribunal found his termination unlawful and instructed the Bank to remove its allegations of poor performance from the record.
Since his termination in 2009, my dad has found it impossible to secure employment in his area of expertise because of the defamatory personnel remarks against him on the Bank's website.
In 2014, under relentless external pressure from US Senator Barbara Mikulksi, the Congressional Black Caucus and the DC Civil Rights Coalition, the Bank's HR unit sent my dad a memo to notify him that deleted parts of his personnel record would "be scanned into [his] staff record." Nonetheless, the HR unit insisted that there is nothing it could do to withdraw or correct the fabricated defamatory record from the World Bank website.
Noting that the restored record acknowledges that my dad "managed and brought to fruition important methodological innovations in critical areas that have created a lasting legacy," my dad asked the Bank to restore his name and leadership roles that the Bank had deleted from its publications. The reply from the HR unit was "There will be no comments from [HR] side on Bank publications."
Meanwhile, the Bank's Chief Counsel acknowledged that World Bank Staff Rule 2.01, paragraph 5.03 requires "disclosure of personal information if the appropriate Bank officials decide that it is necessary to correct false or misleading information" in the public domain. However, in my dad's case the Chief Counsel stated that "the Bank has not deemed it necessary to disclose" his official record, because his record is "hagiographic" – too good to be true.
One of the Tribunal judges wrote to my father offline to advise him to forget his record and take a second go at the American dream: "Let bygones be bygones and try once again to rebuild your life and career."
Where Does the US Government Stand?
The current World Bank president, Jim Yong Kim, was handpicked by Secretary Clinton and President Obama in 2012. He is a close friend of Secretary Clinton and a regular golf partner of President Obama. Therein lies the problem.
In 2012, the US Congress passed an Appropriation Act requiring the US to withhold its financial aid to the World Bank until the institution agrees to use external arbitration to resolve employment disputes. In 2014, Congress passed a similar law, restricting the sanction for noncompliance with the law to only 15 percent of U.S. financial aid. The two laws made the Obama administration the first US administration to have legal instruments to rein in the Bank's culture of lawlessness and impunity.
Sadly, President Kim was able to use his entrenched political connections to stop the enforcement of the two laws. The Congressional Black Caucus (CBC) that has been asking the Obama administration "to take action" caved under the weight of political pressure. Twenty-four CBC members who had signed a petition retracted their signatures in unison. More saddening was that several prominent civil rights leaders buckled under political pressure and stopped rallying behind my dad's case.
My Father's Hunger Strike
On September 8, my father embarked on a hunger strike to protest the injustice. It is but for the grace of God and for Congressman Van Hollen's intervention that he suspended his hunger strike after five weeks.
My family is grateful for Congressman Van Hollen's support and we are praying that my dad will get justice. But my dad will resume his hunger strike if the issue isn't resolved quickly, and knowing President Kim's political connections in high places and his unflinching stand to deny my dad the security of justice, we are fearful of the worst.
When men are allowed to exist outside of the confines of the law, anything is possible and almost always the unthinkable happens.
http://ijr.com/opinion/2016/10/261228-yonas-biru-world-bank/