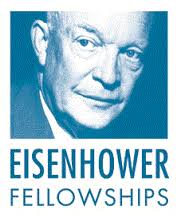 The Eisenhower Foundation is extending its successful Eisenhower Fellows Program to a new initiative focused solely on sub-Saharan Africa.  The initiative will assemble a group of younger (ages 32 – 45) Africa leaders from any field, and bring them to the U.S. for a carefully-constructed seven-week program.
The goals are to develop the Fellows' leadership skills, to increase their international exposure, to foster life-long connections with their Fellow classmates, and to introduce them to an alumni network of more than 1400 active leaders around the world.
The deadline for submission is Ocober 15, 2015.
For more information, click here.