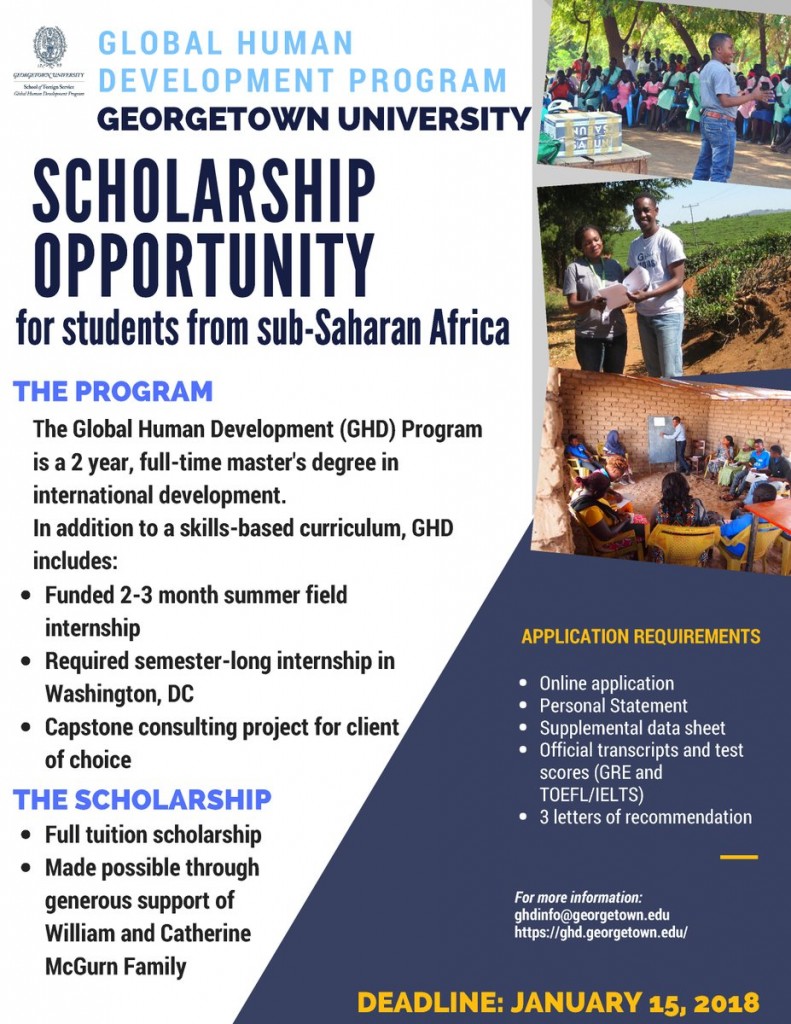 The Global Human Development Program (GHD) at Georgetown University's Edmund A. Walsh School of Foreign Service is excited to announce a full tuition scholarship for a master's-level student from sub-Saharan Africa, made possible through the generous support of the William and Catherine McGurn Family.
The Global Human Development Program is a two year, full-time master's degree that encompasses an innovative skills-based curriculum with built-in opportunities for experiential learning. The curriculum covers core courses including the economics of development, international political economy, program design and implementation, monitoring and evaluation, quantitative and qualitative methodologies, finance and budgeting, and management.
In addition to the curriculum, students apply the skills and knowledge they are learning in the classroom to three different professional work experiences: the summer field project (a fully-funded 2-3 month international work placement); an internship at a relevant Washington DC-based international development organization/agency for at least one academic semester; and the capstone project (a two-semester client engagement project emphasizing project management and analysis).
As GHD is a practitioner-focused program, competitive applicants must have at least two years of experience working in international development or a related field. All applicants must have completed an undergraduate degree prior to proposed enrollment.
To be considered for the scholarship, applicants must submit all required application materials:
Online application
Personal statement
Supplemental data sheet
Official transcripts and test scores (GREs and TOEFL/IELTS)
Three letters of recommendation
The scholarship will be awarded based on the overall strength of the application. The deadline for admission is January 15. MORE